As we made too many cakes for Christmas, like always, my mum forbid me baking more things before we eat the old ones. Those were lovely and tasty and I wouldn't really mind - if only I were just food lover. But simple moves you have to make, putting ingredients into bowl, mixing, pouring, greasing, it makes me calm and relaxed. After 5 days without cooking I was already missing swirling around mu kitchen, taking out pans and listening to the same old cassette like always, so today I was happy to be told 'bake birthday cake for your sister'. She's turning 20 tomorrow, so 'no more teen' cake for her would be in place. Right now it's only in plain-sponge-cake-to-assemble-and-decorate state.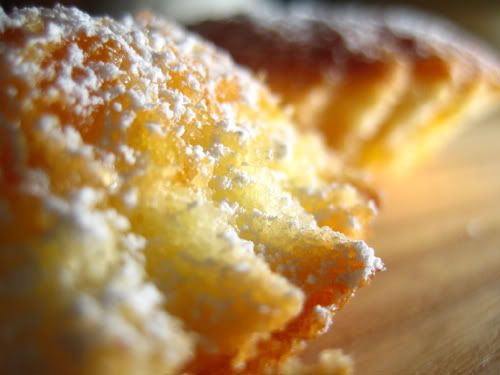 So, when I finally sneaked into kitchen, I thought 'why not pretend I'm doing cake and make something else, tiny and cute?' and then I remembered little tartlet pans I bought recently. I have only six, though, and 'sandcake' recipe I decided to use divided in 6 produced more batter then fit into pans, so I took out other pans and poured leftovers into them, sprinkled with sugar just before (I forgot to sprinkle one and the little cake didn't want to come out, ah.) 'Sandcake' has great a bit dry but soft, melty texture as it combines both wheat and potato flours, as well as butter and oil. It's taste is a bit plain though, so I threw some candied orange peel - only after searching for it in every possible place, of course, as my mum tends to put my things when she thinks they should be, not where they should really be. Some minutes in oven and little powdered-sugar-sprinkling later they presented themselves.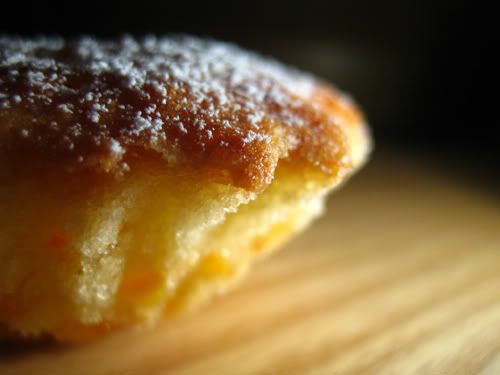 Notice the little cubes of candied orange peel peeking thru cake molecules.
I always enjoy preparing this one particular cake more than any others, because it really feels like magic. First, yellow rectangular stick of butter melts in one with old plain sugar, turning into bright fluffy mixture, just like the ugly ducking turned into a swan. Its consistency when all ingredients added is quite thick but still creamy and shiny, and then the real kitchen poetry: vinegar. It bubbles, fizzles and hisses when interacting with baking powder, and the cream-colored batter starts turning whiter and whiter. With mixer still on, it creates spirals and patterns od white swirls, until they have completely overtaken. While those two always make the same show, in this particular cake it's even more spectacular.
Sandcake
about 15 muffins / 1 small cake
1 stick plus 1 Tbsp (125 g) butter
1 cup sugar
3 eggs
1 cup potato flour
3 huge Tbsp wheat flour
1 tsp baking powder
3 Tbsp sunflower oil
1 tsp vinegar
vanilla/lemon/peppermint/... extract
Cream butter and sugar until creamy.
Add eggs, one at time, waiting for each of them to incorporate completely before procreeding.
On low speed, mix in flours and baking powder in three - four parts, alternately with oil. Beat on medium speed for 2 minutes, until light and well-combined.
Final touch - pour vinegar into the batter, mix thorougly and pour into cases / pan(s).
Depending on what you are baking, it may take 15 min to over an hour. Check with toothpick if it's ready (comes out clean - ready to eat.)